If you have a loved one with Alzheimer's, you have witnessed how much the disease can take away from a person. You know that many memories seem to disappear and the ability to do everyday tasks can seem insurmountable. Whether you are providing care for your loved one, or have a professional helping with Alzheimer's home care services, having music be a regular part of your loved one's day can help make each day run a little smoother, with fewer outbursts and more engagement in the world around them.
Music allows for engagement and self-expression even after dementia has progressed.
Here are some ways it can have a powerful impact on your loved one and those providing Alzheimer's home care for him.
It reduces agitation. Using calming music that your loved one can hear while bathing in the evening or getting dressed in the morning, may help reduce the chance that something will agitate him. If it's a song from his past that he knows the words to, you can have him sing along, distracting him from any chore that he often finds unpleasant like trimming his nails or combing his hair.
It provides a way to connect. It can be hard trying to connect with your loved one with Alzheimer's disease. You may find it especially hard when family or friends want to visit and connect with him. One way to help your loved one connect with those around him is through music which was a big part of his life during his younger years. Have your Alzheimer's home care provider put on some of his favorite music when his brother who lives across the country visits. They can chat about their favorite bands growing up or simply sing along to the tunes together, giving them both an enjoyable and easy way to connect when words are no longer there.
It provides energy. While you don't need any head-banging music to ramp up the energy, having some upbeat music that he enjoys (such as big band music or some upbeat jazz), can help your loved one participate in daily activities such as going for walks, help with household chores (like setting the table) or participating in an art activity.
There are a few tips to remember when planning on having music be a part of your Alzheimer's care.
Alzheimer's Home Care Del Mar CA – How Music Can Help A Senior Who Has Alzheimer's

Choose music that is familiar to him, not what you or your children like. Music most often helps when it provides a link to the music he grew up with or is strongly connected with.

Choose music that doesn't have commercials. While free music from Spotify may seem great, frequent breaks from the music into commercials may cause confusion or irritation.
Choose the right sound level. You might have to experiment with this. The music should be loud enough to be heard well, but not too loud to cause discomfort.
Encouragement movement when appropriate. Let your loved one really enjoy the music, whether through clapping along, singing, or tapping his foot. Even some dancing can be a lot of fun so long as the area is safe for it.
Look for ways you can add music to your loved one's day. Music is powerful in its ability to reach areas that seem unreachable.
Canaan Home Care – A Premier Provider of Senior Home Care in the La Jolla, Del Mar, San Diego, Rancho Santa Fe, Newport Beach, Laguna Beach, Huntington Beach, Irvine, Tustin, and Manhattan Beach areas.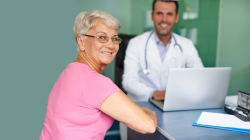 Latest posts by Canaan Home Care Staff
(see all)