In an AARP survey, 77% of adults 50 or older reported wanting to age at home. They don't want to move to a new community. At the same time, 24% of these adults reported feeling less connected within their community after the pandemic started. Could your dad be feeling lonely and isolated? When was the last time your dad had a visitor? You try to stop by as often as you can, but you might live hours away. He may not live close to anyone, and that remote setting makes it hard for people to stop by more than once a month. Would you know if he was feeling lonely? Could he benefit from companion care at home services?
What Are the Signs of Loneliness and Isolation?
Loneliness occurs when you lack a connection with others. Your dad could be surrounded by the people he loves and not feel that they truly are connecting. That can lead to loneliness. Robert Weiss, a sociologist, stated that humans have six social needs. If those needs go unmet, it can lead to loneliness.
Attachment
Being nurtured
Guidance in stressful situations
Reassurance of worth
Sense of alliance
Social integration
Elderly loneliness isn't just a problem for those who live alone and don't often see their family. It's also isolating and lonely when you're diagnosed with a chronic health condition. Something like heart disease can make you feel alone. How do you identify that your dad is feeling lonely or isolated?
Anger is one sign. If your dad is ashamed that he feels alone, he may lash out at others. He might become angry because he feels he's being left out or ignored.
Appetite changes are common in lonely people. Comfort eating occurs. He feels lonely, so he seeks comfort from food. He'll start gaining weight, which impacts his health. In some, the opposite happens. Loneliness impacts the desire to eat and leads to weight loss.
Hoarding is a common sign of loneliness. Your dad seeks comfort in other ways, and shopping or picking up free items he sees on the roadside are two options. If he's purchasing things or bringing home things he doesn't need, it might mean he's lonely and trying to find ways to feel happier with his situation.
Insomnia can occur when your dad feels lonely. He has a hard time falling asleep or staying asleep. That will impact his mood. It can also increase the risk of a fall if he's going through the day exhausted.
Schedule Companion Care at Home Aides to Keep Him Engaged and Active
Talk to your dad about his daily routine. You want to learn where he struggles and what he can accomplish without help. Collect input from other family members, too, as your dad may try to hide how much he cannot complete without help.
Once you have a list of the tasks he cannot do independently, call our home care agency. Ask about local companion care at home services. You'll get prices and tips for scheduling companion care at home for your dad.
Sources: https://www.aarp.org/home-family/your-home/info-2021/home-and-community-preferences-survey.html
https://www.britannica.com/science/loneliness#ref1221849
Canaan Home Care – A Premier Provider of Senior Home Care in the La Jolla, Del Mar, San Diego, Rancho Santa Fe, Newport Beach, Laguna Beach, Huntington Beach, Irvine, Tustin, and Manhattan Beach areas.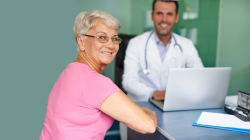 Latest posts by Canaan Home Care Staff
(see all)