Caring for an aging parent with Alzheimer's can be very rewarding and sometimes very challenging. Because Alzheimer's uniquely affects each person, sometimes family caregivers must keep trying to find new ways to engage with their senior loved ones and keep them safe and happy. Family caregivers can start to experience burnout when the stress of caring for a parent with Alzheimer's combines with the stresses of work and family life. That's why respite care is so important. Alzheimer's home care services by a trained and experienced provider give family members the chance to take a much needed break from relentless caregiver duties.
Alzheimer's home care services are a little different from regular home care. The caregivers who provide Alzheimer's home care are trained to recognize the challenges that come with trying to take care of someone with Alzheimer's. They are also trained in different techniques that can successfully be used to keep seniors with Alzheimer's happy and safe at home.
Alzheimer's home care providers give caregivers time to do things like:
Run Errands
One of the things that can stress a family caregiver out is not being able to run the errands they need to do to take care of everyday life things. Mailing letters, paying bills, picking up prescriptions, shopping for food or clothing, taking the dog to the groomer or the vet, or getting their hair cut can be a real challenge if they need to bring a senior loved one with Alzheimer's with them. A few hours of respite care a couple of times per week allows a caregiver the time to take care of their life responsibilities without the stress of having to do all those errands with their senior parent who has dementia in tow.
Have A Mini-Vacation
Many caregivers don't want to take any real vacations because they are worried that something will happen to their senior parent while they are away. But mini-vacations can give caregivers the same sense of relaxation on a smaller scale. A daycation where a caregiver can take an entire day off from caregiving can be exactly what they need to recharge their emotional batteries and get some perspective.
Go To Medical Appointments
Often people don't get a say in when they are scheduled for medical appointments. They are told when the provider can see them and that's that. They have to make that time work. Respite care through an Alzheimer's home care provider for a parent with Alzheimer's allows family members the time they need to get to medical and dental appointments even if the appointments are in the middle of the day.
Getting Rest with Alzheimer's Home Care Support
The constant vigilance that family caregivers need to have when taking care of a senior loved one with Alzheimer's is mentally and physically exhausting. With Alzheimer's home care, a day or two during the week family caregivers can get the break they need to continue being fantastic caregivers during the rest of the week.
Canaan Home Care – A Premier Provider of Senior Home Care in the La Jolla, Del Mar, San Diego, Rancho Santa Fe, Newport Beach, Laguna Beach, Huntington Beach, Irvine, Tustin, and Manhattan Beach areas.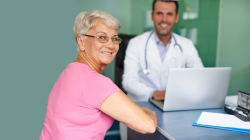 Latest posts by Canaan Home Care Staff
(see all)