Fibromyalgia affects four million adults in the U.S., yet not everyone knows what it is. May 12th is National Fibromyalgia Awareness Day. Home care assistance services are essential for supporting your mom who has this condition. Here are some of the key facts to know about this disease.
Pain is Spread Throughout the Body
When a person has fibromyalgia, the pain is relentless and affects all of the body. It's usually a burning, throbbing ache in the arms, legs, buttocks, hips, back, abdomen, chest, shoulders, head, arms, and hands.
Some people with fibromyalgia have a heightened sensitivity and awareness of pain. What is mildly painful to you will be excruciating to your mom.
Pain Isn't the Only Symptom
While pain and stiffness throughout the body are common symptoms, there are several others. Your mom may experience migraines, insomnia, and fatigue. She might find it hard to concentrate or remember things.
Your mom may become overly sensitive to lights and sounds. She may become cold in a warm room. Tingling in the arms and legs and IBS also happen.
Depression and anxiety are other symptoms of fibromyalgia. If your mom experiences these symptoms and her doctor hasn't found a reason, it's time to ask about fibromyalgia.
Fibromyalgia is a form of arthritis. If she has it, she's also more likely to have other forms of arthritis, including rheumatoid arthritis and osteoarthritis.
No One Knows What Causes It
The cause of fibromyalgia is unknown. Some people get it and others don't. Sometimes it runs in families, but it doesn't have to. Keep in mind that there's no clear cause.
What is known is that women are more likely to develop it. If your mom experiences full-body pain, supporting her is important.
What if your mom has fibromyalgia? How do you help her manage the pain? If she lives alone in the family home, should you start discussing downsizing?
Physical Activity is Essential and Home Care Assistance Providers can Help
When your mom has fibromyalgia, her doctor will recommend that she becomes active. A minimum of 30 minutes of daily activity is important.
This doesn't mean your mom has to exercise alone. Having others with her like home care assistance aides may make her more willing to walk farther or stay outside longer. Join her for a Yoga class or take her on a bike ride on a local bike path.
When fibromyalgia pain is limiting her activities, hire home care assistance providers to clean your mom's home, cook meals, do her laundry, and drive her around town.
Don't let fibromyalgia keep your mom from enjoying an independent lifestyle. With the helping hand that home care assistance services offer, she can stay in her home without putting her safety or health at risk. Call to learn more.
Sources:  https://www.cdc.gov/arthritis/basics/fibromyalgia.htm
Canaan Home Care – A Premier Provider of Senior Home Care in the La Jolla, Del Mar, San Diego, Rancho Santa Fe, Newport Beach, Laguna Beach, Huntington Beach, Irvine, Tustin, and Manhattan Beach areas.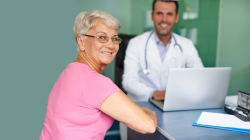 Latest posts by Canaan Home Care Staff
(see all)