In-home care services ensure your mom can age at home without fear or frustration. Have you looked into the many ways caregivers can help your mom?
Here are the most popular in-home care services for seniors.
Companionship
Your mom may be okay doing most household chores and taking care of herself. What she doesn't have is a large social circle. She's alone all week long, and your mom admits she feels lonely and isolated.
Ensure that her needs for companionship are met by arranging for home care aides to stop by and spend time with her. Companion care is just as important as help with housework and meals. Your mom has someone to talk to, take walks with, and engage with playing games or watching movies.
Laundry
Many homes, especially older homes, have the washer and dryer at the home's lowest point. If your mom's laundry room is in the basement, she may not feel confident going up and down those stairs. If she falls, the concrete walls and flooring are unforgiving and can result in serious injuries.
Hire caregivers to stop by each week and do the laundry. During a caregiver's visit, you can have the aide change the sheets on the bed, switch to clean towels, and wash everything. Once the laundry is dry, the caregiver can fold it and put it away.
Light Housekeeping
Light housekeeping is a popular aspect of in-home care services. Hire a caregiver to vacuum carpets, dust, and wipe down sinks, counters, faucets, and knobs. Caregivers can also run the dishwasher and put dishes away.
Meal Preparation
If your mom struggles with meal preparation, hire an in-home care aide to help your mom plan a weekly menu. Once the menu is in place, your mom's caregiver can take her shopping and make sure she has all of the required foods.
The caregiver can also prepare the meals and snacks, clean up the kitchen after the meal, and put leftovers away. Your mom has plenty of healthy meals and snacks without having to struggle to slice, dice, chop, and cook.
Medication Reminders
Does your mom take daily prescriptions? If she often forgets a dose, she can have a caregiver for reminders. Plus, the caregiver can keep track of when a refill is needed.
Mobility Assistance
How well does your mom get around the home? If she has a hard time with ambulation and transfers, she can have a caregiver by her side to help.
Her caregiver can support her while she gets out of bed or stands up after sitting. Her caregiver can help her up and down the stairs, to and from the bathroom, and in and out of the car.
Personal Care
Personal care services cover many things your mom may have difficulty completing if she has chronic health issues like dementia or severe arthritis. It includes oral care, showering, grooming, toileting, and dressing.
Transportation
Finally, there is transportation available from in-home care aides. You may struggle to get enough time off to drive your mom to her doctor appointments, dental check-ups, and therapy sessions. Your mom needs someone to drive her to the pharmacy to pick up prescription refills, but you don't get out of work early enough.
Transportation services are important. Your mom doesn't have to wait weeks until you're free, and you don't have to take unpaid time off work. An in-home care specialist can help you make the arrangements.
Canaan Home Care – A Premier Provider of Senior Home Care in the La Jolla, Del Mar, San Diego, Rancho Santa Fe, Newport Beach, Laguna Beach, Huntington Beach, Irvine, Tustin, and Manhattan Beach areas.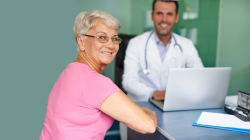 Latest posts by Canaan Home Care Staff
(see all)