The families of seniors with Alzheimer's may not realize that it's very common for seniors with Alzheimer's to stay in their own homes as they get older. Even as the disease progresses seniors can live happily and safely in the home that's familiar to them. Alzheimer's home care services, a specialized type of care for seniors with Alzheimer's, can make it possible for seniors to live well in their own homes.
Alzheimer's home care is tailored to the needs of each senior and can start immediately after your senior parent is diagnosed with Alzheimer's. With specialized care seniors get the extra support they need so they can hang onto their cognitive skills as long as possible.
Some of the ways that Alzheimer's home care makes it possible for seniors to live well at home are:
Care That Changes As Your Senior Parent's Needs Change
One of the fundamental aspects of Alzheimer's care is the creation of personalized care plans. Caregivers work closely with the seniors and their families to understand their specific needs and preferences.
This personalized approach ensures that care is tailored to the unique challenges posed by Alzheimer's disease. Because Alzheimer's affects every senior in different ways having Alzheimer's care that is constantly changing to meet your senior parent's changing needs means they will always have the level of care they need.
Cognitive Stimulation
Alzheimer's home care focuses on cognitive stimulation to help seniors maintain mental function for as long as possible. Caregivers engage seniors in activities that stimulate memory, problem-solving, and creativity. This not only supports cognitive health but also provides a sense of accomplishment and purpose.
Medication Management
Seniors with Alzheimer's often require medication to manage their symptoms and slow the progression of the disease. Alzheimer's care ensures that seniors receive the correct medications at the right times, reducing the risk of complications and ensuring their overall well-being.
Daily Routine and Structure
Consistency and routine are crucial for seniors with Alzheimer's. Caregivers create structured daily routines, which can help minimize confusion and anxiety. A predictable schedule provides comfort and helps seniors with Alzheimer's to navigate their day more comfortably.
Personal Care
Assisting with personal hygiene is a vital part of Alzheimer's care. Caregivers help with bathing, grooming, dressing, and toileting. They provide respectful and compassionate support, ensuring seniors maintain their dignity and hygiene.
Meal Planning and Nutrition
A well-balanced diet is important for overall health, and Alzheimer's home care includes meal planning and preparation. Caregivers ensure that seniors receive nutritious and appetizing meals, reducing the risk of malnutrition and related health issues.
Safety Measures
Safety is a top priority in Alzheimer's care. Caregivers assess the home environment for potential hazards and take steps to reduce the risk of accidents and wandering. This includes installing safety features like handrails and locks and closely supervising seniors to prevent dangerous situations.
Companionship and Social Interaction
Alzheimer's home care emphasizes companionship and social interaction. Caregivers provide emotional support and engage seniors in conversations, activities, and hobbies. These interactions help prevent feelings of isolation and loneliness, improving emotional well-being.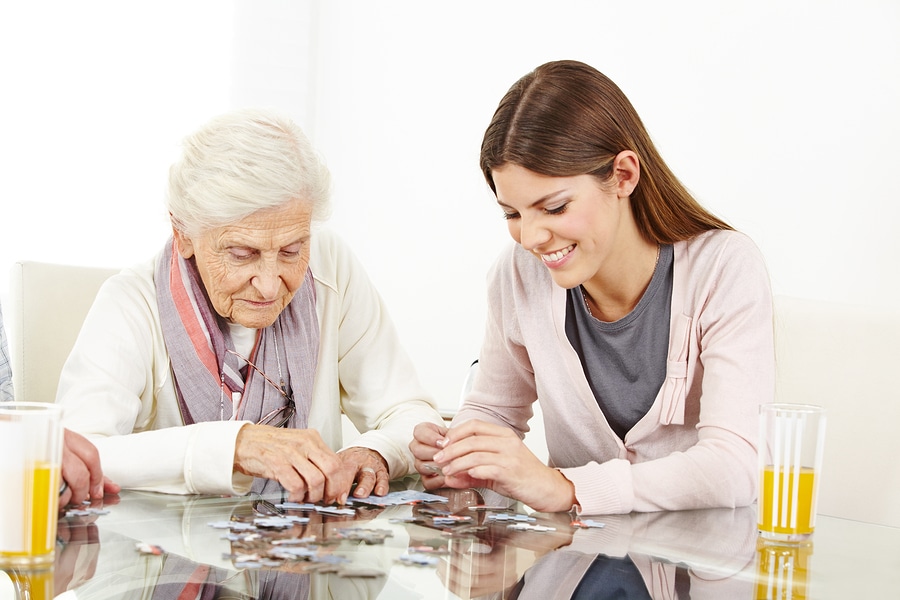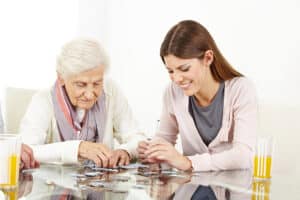 Family Support and Education
Alzheimer's home care also extends to the family. Caregivers provide support and education to families, helping them better understand the disease and how to care for their loved ones. This empowers families to create a supportive and nurturing environment at home.
Sources: https://www.hopkinsmedicine.org/health/wellness-and-prevention/safe-and-happy-at-home
https://www.alzheimers.gov/life-with-dementia/tips-caregivers
https://www.alz.org/help-support/i-have-alz/know-what-to-expect/if_you_live_alone
Canaan Home Care – A Premier Provider of Senior Home Care in the La Jolla, Del Mar, San Diego, Rancho Santa Fe, Newport Beach, Laguna Beach, Huntington Beach, Irvine, Tustin, and Manhattan Beach areas.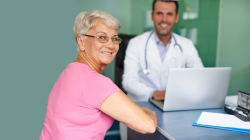 Latest posts by Canaan Home Care Staff
(see all)