If you've been providing care for an elderly loved one with dementia, it's not uncommon to get to a point where you need a little help. As Alzheimer's progresses, the needs of your loved one have grown, and trying to do it all yourself or with your immediate family's help may get too overwhelming. If you're thinking of hiring someone to provide Alzheimer's home care services, that can be a wonderful asset to you and your loved one.
An Alzheimer's home care specialist can help you manage the day-to-day tasks, relieving you from some of the overwhelming responsibility while helping your loved one stay at home and enjoy those comforts and that familiarity.
Before you decide on an Alzheimer's home care provider, here are a few tips to help you find the perfect team to partner with you in caring for your loved one.
Talk to your loved one's doctor first
Your loved one's primary physician is a great resource as you begin this journey. They will most likely have a list of providers you can check out, as well as good advice on what care needs you may have in the future so that you can determine if the Alzheimer's care provider you choose can be with your loved one for the long term.
Create a list of needs
Before you reach out to Alzheimer's care agencies, sit down with your family members and talk about which areas you need the most help with. You might want someone to provide companionship more than anything else. Or maybe you want help with bathing and bedtime routines. Write it all down and then also think about the future and what else you might need help with in the coming months and years. Knowing right away if the organization can help with future care needs may mean you won't need to worry about switching Alzheimer's care providers in the future and having to get your loved one comfortable with a new person again.
Do online research as well as call and interview them in your home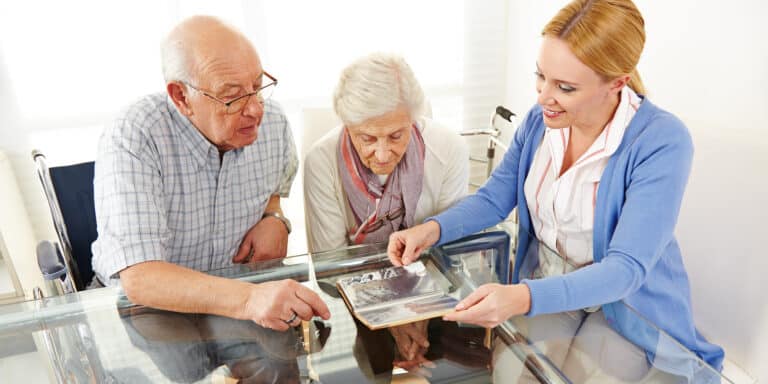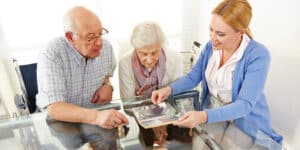 Now that you know what you need, it's time to do some research into your local providers to see what each one offers, what the price is, and how soon it's available. It's a great time to look at online reviews of services as well, to see if current and past clients were happy with the services provided.
After your online research, see if you can do phone interviews as well. Sometimes a short conversation can take someone out of the running right away so you don't waste time with a home visit.
An Alzheimer's home care provider should come to your home for the interview. Have your questions written out (you're sure to forget a few if you don't) and have at least one other person with you (it'll help you remember what was discussed). It also helps to write down key points as you talk to them to review later.
These beginning steps can help you find the perfect in-home Alzheimer's care provider.
Canaan Home Care – A Premier Provider of Senior Home Care in the La Jolla, Del Mar, San Diego, Rancho Santa Fe, Newport Beach, Laguna Beach, Huntington Beach, Irvine, Tustin, and Manhattan Beach areas.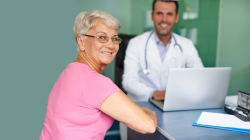 Latest posts by Canaan Home Care Staff
(see all)