Your mom had a stroke. Your family is stunned and needs to plan for her care, and there's no time to waste. What are the most important steps to take after your mom's stroke? Should you hire home care services to provide help when you are not available?
Talk to Her Medical Team
You need to know what happens next. Your mom's medical team can address the severity of the stroke. If your mom can recuperate at home, you'll know what she needs once she's released from the hospital.
Don't be surprised if she needs to move into a rehabilitation center for a few weeks or months while she regains motor and communication skills. A stroke will affect the use of her hands, legs, feet, and arms.
If the stroke was in the right side of the brain, the left side of the body might be paralyzed. For strokes in the left side of the brain, the right side is impacted. Strokes in the back of the brain can affect movements on both sides.
Your mom may need to work with speech therapists to relearn speech. If her movements are impacted, she needs to learn to use a walker or wheelchair until she's walking again. Physical therapy helps relearn those skills. Occupational therapy helps her learn how to feed herself, get dressed, and take care of personal care and grooming.
Track Her Progress Through Rehabilitation
Your mom has to go into a rehabilitation center. That's normal, and it gives you time to prepare for her return. Keep in touch with her therapists, doctors, and nurses during rehab. Your encouragement can help her stay motivated.
Visit her as much as you can. Even if you don't live nearby, you can ask about video chats to make sure she knows you are rooting for her.
Prepare Her Home for Her Return
Your mom's home may need to be readied for her return. If she doesn't have safety features like grab bars in the bathroom, they should be installed by a professional contractor or someone in the family who knows how to find the wall studs and anchor the grab bars correctly.
If a wheelchair is needed, your mom needs to have her bedroom moved to the home's first level. If that's not possible, research stairlifts and look for grants to help make them affordable.
Carpeting cannot be torn, as it could catch on a walker or cane and pose a tripping hazard. Wood and tile flooring needs to be even. Stair rails must be sturdy and not come loose from posts or walls.
Hire Home Care Aides
Once you know she's coming home, make sure home care services are in place for her return. The services she needs depend on the severity. She will need help with meal preparation, light housekeeping, and transportation.
It's going to be a while before your mom is cleared to drive. She needs someone to escort her to medical appointments and therapy sessions, take her shopping, run errands, and help her carry in groceries and supplies. Home care aides help with that and more.
Canaan Home Care – A Premier Provider of Senior Home Care in the La Jolla, Del Mar, San Diego, Rancho Santa Fe, Newport Beach, Laguna Beach, Huntington Beach, Irvine, Tustin, and Manhattan Beach areas.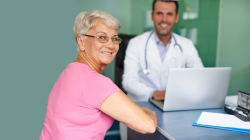 Latest posts by Canaan Home Care Staff
(see all)