If you've ever experienced moodiness from your senior, you might have wondered what exactly was going on. The truth is that there can be any number of causes, some even beyond what's listed here. Everyone is an individual, so your elderly family member's moody feelings may have a root in some or none of these situations. Having senior home care providers available to her may help to lighten her spirits.
Anniversaries, Birthdays, and Other Painful Dates Come Around
Everyone has people they've loved and lost, especially your senior. Birthdays, anniversaries, and other important dates roll around every year and sometimes they can be incredibly painful reminders. There's no timetable for grieving, and your elderly family member may even feel some old losses just as if they're new. That can happen now as she starts to face her mortality more every day.
She's Grieving What She's Lost
But there's more than people she's loved that your senior may have lost. She may be grieving the loss of certain skills or the dreams and hopes that she had for her future. If she had planned on spending her later years living in the same home that she always lived in but had to move, that can cause immense grief. Letting go of those dreams and hopes doesn't come easily for anyone.
She's Going through Health Changes that Are Scary
Anyone who faces big health changes can find that their mood suffers because of that situation. Your elderly family member may have put up a brave face for a long time, but that doesn't hold up forever. That's especially true if she's continuing to experience setbacks with her health. Having someone to talk to can help a lot. You might want to consider talking to your senior's doctor about whether talk therapy would be a good option or if other ideas can help.
Sometimes a Mood Is Just a Mood and Having Senior Home Care Services Available can Help
Something else to consider is that sometimes people just have bad moods. There doesn't have to be anything specific that is causing your aging family member to have a bad day or a bad mood. You might want to talk to her about what she's feeling and find out if there is anything behind the mood that you can do something about for her. There might be a simple solution, like getting her some extra help around the house from senior home care providers. Until you ask, you might not know.
Helping your senior through a bad day might be easier on some days than others. Try not to push but offer to find solutions.
Canaan Home Care – A Premier Provider of Senior Home Care in the La Jolla, Del Mar, San Diego, Rancho Santa Fe, Newport Beach, Laguna Beach, Huntington Beach, Irvine, Tustin, and Manhattan Beach areas.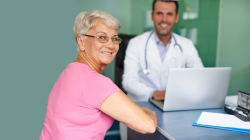 Latest posts by Canaan Home Care Staff
(see all)