As a senior gets older, they may have lifestyle changes that come from aging. Bathrooms may be a dangerous place for your seniors, and they may need some upgrading. Some seniors may need things like bathroom chairs, commode chairs for the toilet, non-slip mats for the floors, and much more. But how can you pick these things out? It can be hard to understand what your senior needs to create a safe place for them to bathe and get ready in the morning. The truth is, if a senior is struggling each morning to get ready but does not feel like bothering you for help, it may be time to think about home care assistance specialists.
Home Care Assistance Aides can Help with Daily Needs
Home care assistance providers may help you find the right tools to keep a senior independent, but they can also be there daily to help a senior get ready easier. This means that home care assistance services help a senior, and the senior does not feel like they need to ask you for help with the basics. It can help your bond with your parents grow stronger because they will still feel more independent.
If you are looking for ways to create a senior-friendly bathroom, there are some things you need to think about. Firstly, you should always ask your senior parents if they have a preference or need anything. This should always be the first step because it is their home, and you won't want to make changes without their permission. Once you find out what they need, you can start taking steps to implement those changes. If you find something they do not have, you can mention it and explain why you think it may be a good idea for your parents to have.
Shower Chairs
Shower chairs with wheels make bathing and using the commode simpler and safer for the elderly. They facilitate the transfer, and the variety of alternatives enables caregivers to help elders without putting their bodies under pressure. There are now tons of options available on the market and they will help keep your senior safe while in the shower.
When seniors lose the ability to shower on their own it can feel degrading and make them feel helpless. Finding ways to keep them independent will also keep them feeling good about aging. Becoming older is a natural part of life but many things change when a senior gets to a certain age. Simple things like shower chairs can help them cope with these changes.
Commode Chairs
As someone ages, normal things become much harder to handle. Simple things like going to the bathroom can be extraordinarily hard to do. That is why you should find things that keep your seniors safe but also feel independent. Things like commode chairs become more common for the elderly to own. These are portable chairs with built-in toilet chambers. Sometimes they can even be placed over a physical toilet. It has handlebars and is higher so it can help a senior go to the bathroom much easier.
Non-Slip Mats
Slips happen as a person ages, especially in the bathroom when it is misty or wet. This can be a big issue for seniors and cause some serious damage. Finding non-slip mats for the shower may help reduce the risk of falling in showers and outside of the tub.
Canaan Home Care – A Premier Provider of Senior Home Care in the La Jolla, Del Mar, San Diego, Rancho Santa Fe, Newport Beach, Laguna Beach, Huntington Beach, Irvine, Tustin, and Manhattan Beach areas.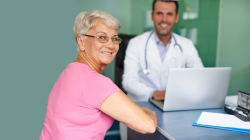 Latest posts by Canaan Home Care Staff
(see all)