Home Care Services: Every year, over 800,000 men and women have a heart attack.
More than 18 million adults have coronary artery disease. If you're still trying to understand what this means, American Heart Month is a great time for you and your home care services provider to learn the facts about coronary artery disease.
American Heart Month is the best time to sit down and talk about your dad's heart health. He might have high blood pressure. Maybe he had a heart attack and faced significant lifestyle changes. No matter what happens, it's important to focus on his health and well-being.
Lower the Risk of Coronary Artery Disease Through Diet
Reduce the risk of coronary artery disease by avoiding foods with three of these ingredients. If a food is high in sugar, sodium, or saturated fat, limit it.
Diabetes Increases Your Risk of Heart Disease
If your dad has diabetes, his risk of heart disease is higher. He needs to be especially careful about diet and exercise and take the recommended steps to stabilize his blood sugar levels.
High Blood Pressure Affects More Than the Heart
You know that high blood pressure strains the heart, but it also impacts the brain. High blood pressure is a risk factor for strokes. Some studies find people with high blood pressure have a higher risk of dementia.
Take Steps to Get a Proper Blood Pressure Reading
Some of the things your dad does will impact his blood pressure reading. When his blood pressure is taken, he wants to be relaxed, sits straight with his feet flat on the floor, and stops talking.
Try to keep your dad from checking his blood pressure when his bladder is full or right after he eats a meal. Anything that has him tensed up or energizes the body may increase his blood pressure.
Exercise is Essential
Your dad needs to exercise at least 30 minutes per day. Talk to his doctor about recommended fitness programs to ensure he's not overexerting. Walking, swimming, and strength training are some of the best programs to help him increase strength and stamina.
Heart Disease Doesn't Mean You Can't Live Alone
Your dad's heart disease diagnosis doesn't mean he needs to move in with someone else. He can live independently, even if he needs a helping hand. Home care assistance services ensure your dad has caregivers as often as he needs them.
Whether your dad needs someone to drive him to area businesses and medical offices or wants to have someone help with housekeeping and laundry, it's possible. Call a home care services to get started scheduling caregivers to help out.
If you or an aging loved one are considering hiring

Home Care Services in Dana Point, CA

, please contact the caring staff at

Canaan Home Care

today!
1-844-CANAAN-1 (1-844-226-2261)
Sources:
https://www.cdc.gov/bloodpressure/5_surprising_facts.htm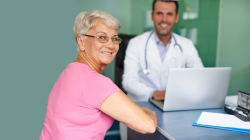 Latest posts by Canaan Home Care Staff
(see all)