Finding ways to support your senior's goal to age as healthfully as possible might feel difficult, but it really isn't as long as you're hitting some key points on a regular basis.
Home Care Services in Dana Point CA: Healthy Aging
Help Her to Get Moving, if She Can
If your elderly family member's doctor agrees that starting a movement plan is okay for your senior, then it's time to get moving. You want to start out slowly and gradually increase the activity level. This helps your elderly family member to avoid giving up too soon. Find activities she loves to do, and that will also help her to stick with them.
Focus on a Nutrient-Dense Diet
Nutrition matters immensely when it comes to overall health. Your elderly family member's diet needs to be made up of whole fruits and vegetables along with lean proteins and whole grains. These types of foods give her the mix of nutrients that she needs in order to keep her body healthy.
Find Ways to Keep Her Brain Active
Brain health is a huge part of healthy aging. Your elderly family member may already have brain games and activities that she loves. Sticking with those is a great idea. There are other things to try, too, like engaging in hobbies that are new to her and doing things like reading, learning new skills, and so much more.
Encourage Social Activities
Socialization is important to health, too, but most people don't put it on the list. If your elderly family member isn't getting her socialization needs met, that is going to cause her to feel isolated and lonely. Looking for ways to solve that problem is really important and can even be as simple as hiring senior care providers to check in on your elderly family member and spend a bit of time with her.
Help Her to Solve Sleep Problems
If your elderly family member isn't sleeping well, that's going to impact her overall health. There can be simple reasons your aging family member isn't sleeping well, like she's not sticking to a sleep schedule, or they may be more complicated. Medications can play havoc with sleep, for instance, so talk with your senior's doctor about the medications she's taking.
The more that you and your senior can do together to help her to age in a healthful way, the easier it will be for you both to stay on top of her health needs.
If you or an aging loved-one are considering Home Care Services in Dana Point CA, please contact the caring staff at Canaan Home Care today!
1-844-CANAAN-1 (1-844-226-2261)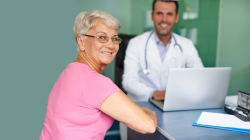 Latest posts by Canaan Home Care Staff
(see all)